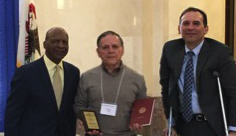 Ruben Vega, an adult learner at Morton College's tutoring program Project CARE, was honored as a recipient of the prestigious Spotlight on Achievement Award that recognizes an adult learner who has made significant measurable strides in learning, who has overcome challenges that might have stopped someone else and whose story is particularly inspiring. Secretary of State and State Librarian Jesse White presented the award to ten selected students from the state of Illinois during a ceremony at the Illinois State Library in Springfield. "I am honored to congratulate these outstanding students for their hard work and determination to attain lifelong reading and learning skills," said White. "Many of them have had to overcome great difficulties and personal obstacles to reach this level of achievement."
When Ruben arrived in the United States, his English skills were very limited. Initially, he had not planned to stay in the U.S., but ended up meeting his wife and started a family. He and his family lived in a predominantly Spanish speaking community and he worked in a place where his co-workers spoke languages other than English. When he retired in 2015, he decided to take the time to learn English. Growing up, he only completed six grades of schooling in his native country which made learning English even more challenging. Ruben was able to overcome his fear with the assistance of his tutor and fellow students and regularly participates in Project CARE activities while becoming a more involved member of his community. Prior to participating in the literacy program, he was not comfortable answering the phone or talking with his English speaking neighbors. Now he is comfortable going to a grocery store or talking with his doctor on the phone. He also understands his English-speaking friends and loves to practice his English skills with his grandchildren.
Project CARE (Community Adult Reading Experience) is a volunteer adult tutoring program at Morton College. Project CARE serves Adult Basic Education students as well as English as a Second Language learners. Tutoring instruction covers English and Math. The tutoring services are free for all eligible students. Project CARE is looking for volunteer tutors to provide individual and small group tutoring instruction at Morton College and local public libraries. Project CARE was founded in 1986 and serves the communities of Berwyn, Cicero, Stickney, Lyons, Forest View, and McCook. For more information, please e-mail project.care@morton.edu or call 708-656-8000 Ext. 2383.