Mission Statement
The Office of Admissions & Records works collaboratively with students, staff, and the community to provide high quality service. Our mission is to maintain student records, process transcripts, and registration with integrity and pride.
Thursday, March 30, 2023 | 12 P.M.-4 P.M. 
RECEIVE A CONDITIONAL ACCEPTANCE ON-THE-SPOT!!
Students will have the opportunity to book a 15-minute one-on-one appointment* with a university admissions representative (students can meet with more than one university representative). All appointments will be face-to-face only. All students who participate in this event will receive a pre-admissions decision based on unofficial Morton College transcripts.* If a student receives a Conditional Acceptance, Morton College will mail your official transcripts for FREE to each school after the event (limit of 2 Official Transcripts per student).
On University Day you can:
Receive a Conditional Acceptance On-the-Spot
Learn about Scholarships and Internships
Learn about Transfer Resources
Sign up by emailing Evelyn.Jaquez@morton.edu
*You must register by March 23, 2023, to be eligible to receive 2 free official Morton College transcripts (if conditionally accepted). On the day of the even, you will receive an unofficial evaluation during your meeting with the university rep. All official transcripts will be mailed to the university at the end of the spring semester.
If you have a HOLD or RESTRICTION on your account, you MUST clear the restriction ASAP. Otherwise, the college cannot release any of your official transcripts.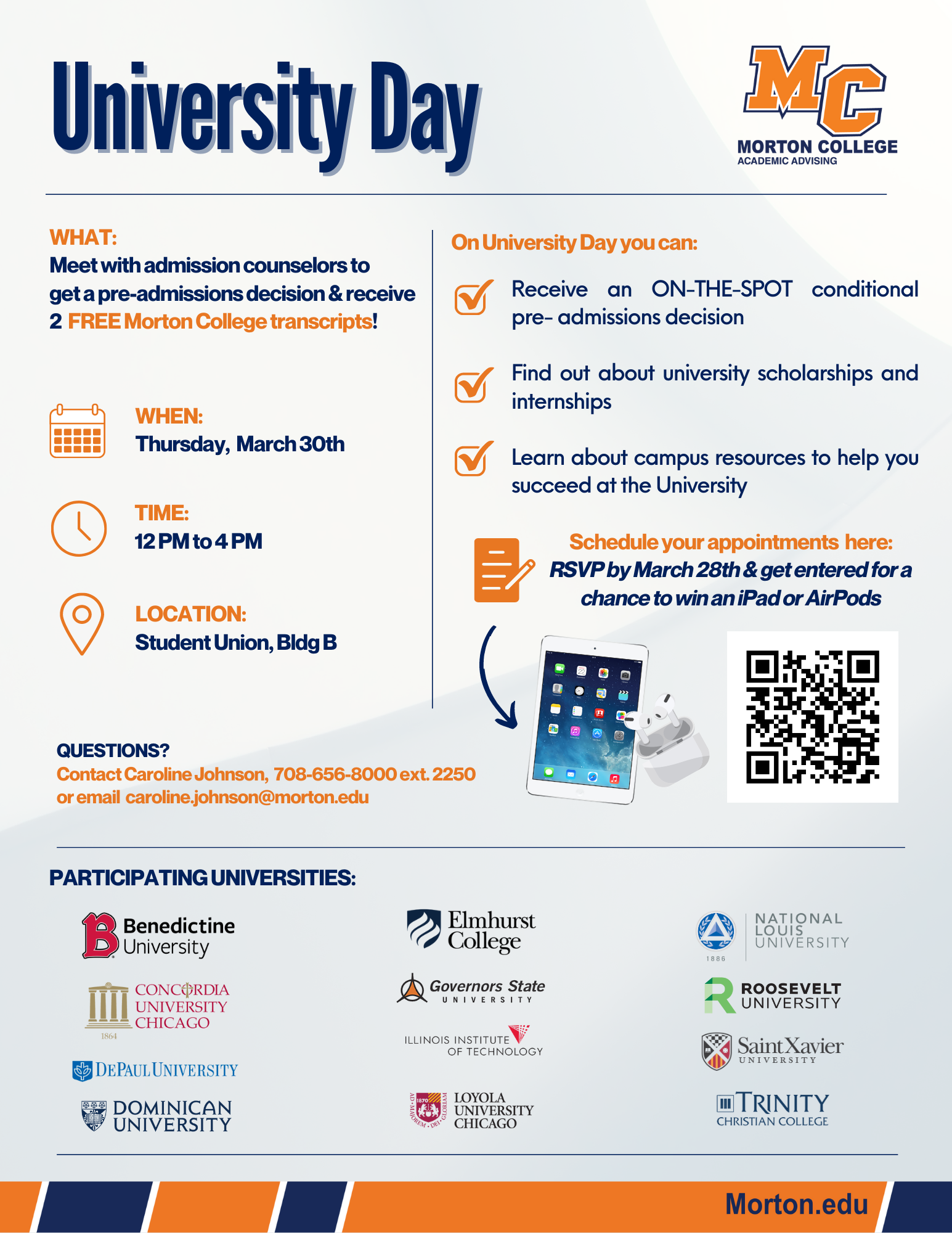 Participating Universities
Benedictine University
DePaul University
Concordia University Chicago
Dominican University
Elmhurst College
Governor's State University
Illinois Institute of Technology
Loyola University
National Louis University
Roosevelt University
St. Xavier University
Trinity Christian University
Transfer Colleges & Universities Information:
Private Colleges and Universities (PICU) Fair
The annual Private Colleges and Universities Fair (PICU), allows students to learn about their transfer options and meet admissions representatives from colleges and universities across Illinois. The 2019 PICU Fair took place on Wednesday, February 27.
For more information on PICU, visit their website. PICU also offers scholarships to students attending one of their members schools. For more information, visit PICU online scholarships.
lllinois Articulation Initiative (IAI)
The Illinois Articulation Initiative (IAI) facilitates the transfer of students from one Illinois institution to another. Both a general education core curriculum and a lower-division major recommendation course listing have been developed. For more information, visit the IAI website.
How Will My Coursework Transfer to Another Institution?
Two free websites, iTransfer and Transferology, allow you to:
View course equivalencies

View program requirements

Enter and store course work
Request an evaluation of transfer work in relation to a program
Click here to watch a video on a step-by-step tutorial on using Transferology.