FAFSA Completion Workshops
August 18, 4:30 p.m. - 5:30 p.m., One Stop Center
August 25, 3:00 p.m. - 4:00 p.m., One Stop Center
August 28, 5:00 p.m. - 6:00 p.m., One Stop Center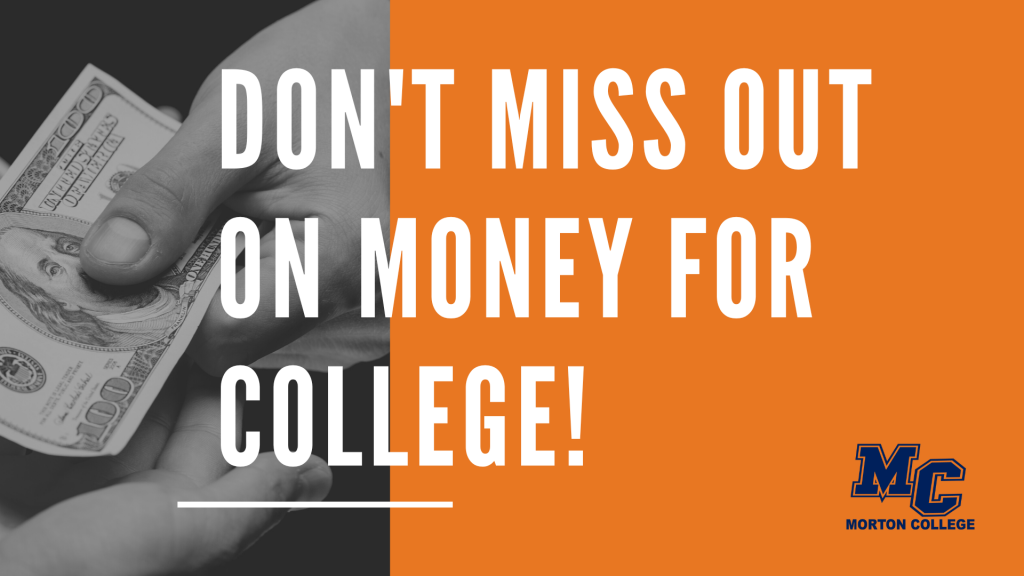 The Financial Aid office assists student with their FAFSA and RISE/Alternative application and provides regularly scheduled workshops to help students fill out FAFSA's/Alternative applications and make any necessary corrections.
For more information, please click here for August FAFSA workshops.
Students can also schedule a one-on-one appointment with Jazmyne Alzate. For a smooth FAFSA appointment/workshop and to learn what to bring with you, please click here.
For general questions, scheduling and concerns regarding Financial Aid application you can contact:
Jazmyne Alzate
Financial Aid Assistant/FAFSA
(708) 656-8000 ext. 2435
jazmyne.alzate@morton.edu
Free Application for Federal Student Aid (FAFSA)
The first step in applying for financial aid is to complete and submit the Free Application for Federal Student Aid (FAFSA) Application. You can complete the FAFSA each year as early as December 1st.
To apply for federal student aid:
Apply for an FSA ID on the Federal Student Aid website
Complete and submit the FAFSA application at www.FAFSA.ed.gov

Contact the Financial Aid Office three (3) to five (5) business days from the date you submit your FAFSA to receive additional required documentation.
FAFSA Recipients Eligibility Requirements  
Be a US citizen or eligible non-citizen

Have a high school diploma, General Education Degree (GED) Certificate or have completed a homeschooling at the secondary level

Be enrolled in an eligible degree or certificate program

Have a valid Social Security number

Register with Selective Services, if applicable

Not be in default on federal loan(s) or owe an over-payment on federal grants

Maintain Financial Aid Satisfactory Academic Progress (SAP)
Note: You may not be eligible to receive federal student aid if you've been convicted under federal or state law of selling or possessing illegal drugs
The RISE Act provides a way to apply for ISAC gift assistance programs – including MAP, the Minority Teachers of Illinois (MTI) Scholarship Program, the Illinois Special Education Teacher Tuition Waiver (SETTW) Programs and others – to those who meet the RISE Act criteria and each program's eligibility requirements. The RISE Act does not exempt applicants from meeting existing program eligibility criteria.
Undocumented Students
Undocumented students may be eligible to apply for ISAC's programs if they meet all of these criteria, which are based on Illinois statute regarding in-state tuition eligibility:
the individual resided with his or her parent or guardian while attending an Illinois public or private high school;
the individual graduated from a public or private high school or received the equivalent of a high school diploma in Illinois;
the individual attended school in Illinois for at least 3 years as of the date the individual graduated from high school or received the equivalent of a high school diploma;
the individual provides an affidavit stating that the individual will file an application to become a permanent resident of the United States at the earliest opportunity the individual is eligible to do so; and
the individual has not established a residence outside of Illinois.
Morton College Financial Aid Process
The financial aid process can take a few months, so begin your application process early. After your file is reviewed, you may be required to submit additional information.
Failure to submit any required documentation may cause you to lose or delay your financial aid eligibility. Follow up with the Financial Aid Office to ensure your file is complete.