All students are encouraged to request their transcripts online. Morton College has authorized Parchment as the provider for the managing, processing, and delivery of all transcripts. We know you will find the process of requesting online to be both easy and convenient.
A permanent academic record of the student's course completion and the semester in which the course was taken. It will contain grades earned, grade point average (GPA), and the type of degree or certificate awarded to the student.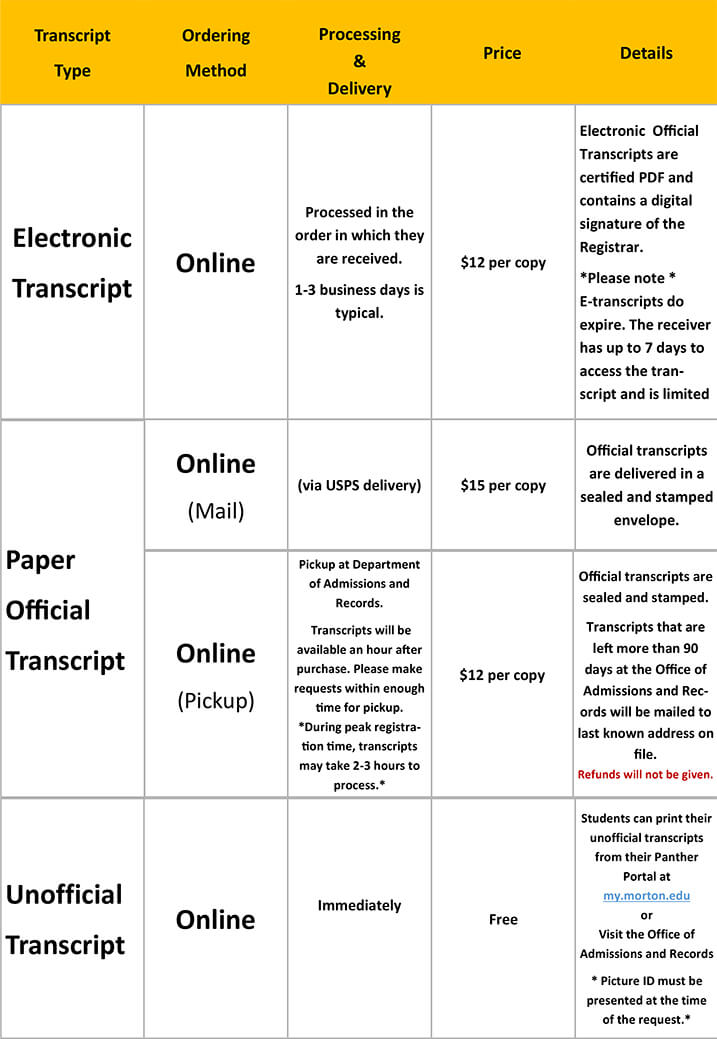 * Transcripts will not be released if there is an outstanding financial obligation to the College
Unofficial transcripts can be viewed and printed through the Panther Portal - Panther Central Self-Service Menu->Academic Profile-> Transcripts.
Requesting Official Transcripts By Student Type
For more information about official transcripts, please contact Angelica Avarado by phone at (708)-656-8000, Ext. 2343 or via e-mail
Holds (Current Students Only)
Reasons for placing 'HOLD' on your transcript request through the Parchment Exchange.
Hold for Grades: transcripts will not be released until final grades have posted from the current semester.
Hold for Degree: transcripts will not be released until degree has been awarded. Please note degrees are posted 6-8 weeks after the end of term in which the student petitioned.
No refunds will be issued after requests are submitted. Please review your order before submitting.