Until April 19th, there will be limited tutoring by remote only.
Please email the following tutors if you need tutoring assistance:
Writing - Julie Steinhaus
julie.steinhaus@morton.edu
Writing - Tisha Loomis
tisha.loomis@morton.edu
Math - Chemistry, Physics - David Labno
david.labno@morton.edu
Math (Monday & Thursday: 9:00am - 3:00pm) - Paul Terronez
paul.terronez@morton.edu
Math (Tuesday & Wednesday: 3:00pm - 7:00pm) - Sandra Bish
sandra.bish@morton.edu
Biology, HESI preparation - Paul Thomas
paul.thomas@morton.edu
Finance and Accounting - Miguel Gutierrez
m.gutierrez4@my.morton.edu
-----------------------------------------
Tutoring Center Hours

Fall/Spring
Monday to Thursday: 8:00 a.m. to 7 p.m.
Friday: 8:00 a.m. to 4:30 p.m.
Saturday: 9:00 a.m. to 1:00 p.m.
Summer
Monday to Thursday: 8:30 a.m. to 7 p.m.
Closed Fridays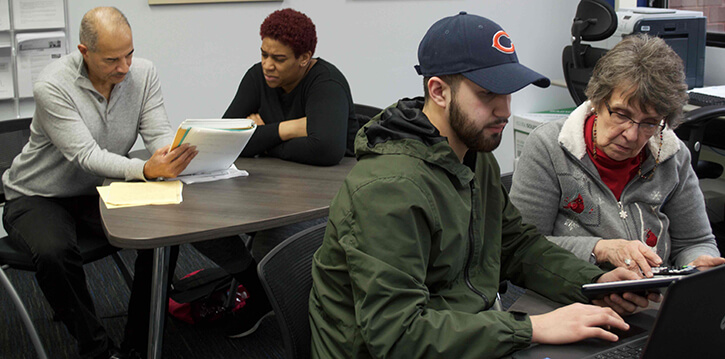 Located in Room 201C, the Tutoring Center provides individualized educational assistance to all students at Morton College in:
Writing

Writing help in all subject areas (not just English classes!)
College Application Essays
Scholarship Essays
Resume Writing

Science

HESI Test preparation
Biology, Anatomy & Physiology
General and Organic Chemistry
Physics, Engineering

Math

Math for nursing
Arithmetic
Algebra, Geometry, Trigonometry
Calculus, Differential Equations
Probability, Statistics
Finite Math, Discrete Math
The Tutoring Center also provides make-up testing services for faculty and students in 207B. We offer both walk-in and appointment tutoring sessions.
For more information, contact (708) 656-8000, Ext. 2465.