Tutors are available to help students:
Understand written assignments
Brainstorm ideas
Sharpen focus and thesis
Develop and organize content
Plan effective paragraphs
Revise for meaning and style
Explore avenues for research and argumentative writing
Learn to proofread and edit more effectively
Adjust writing to express themselves across disciplines
Gain greater understanding of math concepts
Enhance math skills at any level
Improve problem solving
Discover strategies for solving word problems
Understand conversions
Learn how to use scientific and graphing calculators
In-Person Tutoring Hours:
Writing:
Monday-Thursday: 10:00am – 7:00am
Friday: 8:30am – 4:00pm
Math:
Monday: 9:00am – 7:00pm
Tuesday: 8:30am – 6:30pm
Wednesday: 9:00am – 7:00pm
Thursday: 8:30am – 6:30pm
Friday: 9:00am – 3:30pm
Saturday: 9:00am – 1:00pm
Chemistry, Engineering, and Physics:
Monday – Thursday: 9:30am – 6:30pm
Friday: 10:00am – 3:30pm
Click Here to Meet with a Tutor Remotely
(M-F 9:00am - 4:30pm)
Please email the following tutors if you need tutoring assistance:
Biology
– Paul Thomas
Paul.thomas@morton.edu
Tuesday and Thursday: 8:30am – 4:30pm
Makeup Testing Center Hours:
*Room Change*
The makeup testing room is located in 236C. Monday – Thursday: 8:00am – 7:00pm
Friday: 8:00am – 4:30pm
Makeup Testing Center Contact:
Rosaura Sandoval at
rosaura.sandoval@morton.edu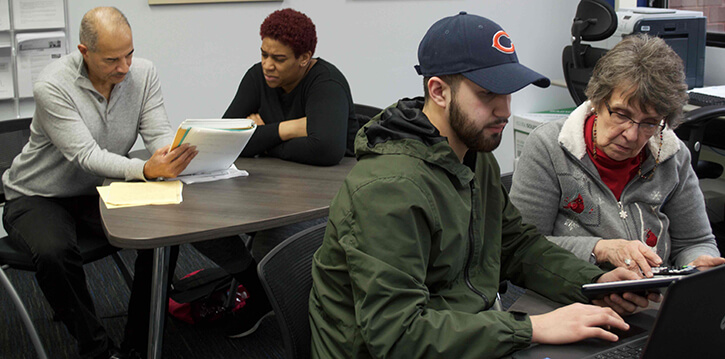 *Room Change*

Located in Room 236C,
the Tutoring Center provides individualized educational assistance to all students at Morton College in:
Writing
Writing help in all subject areas (not just English classes!)
College Application Essays
Scholarship Essays
Resume Writing
Science
Kaplan Test preparation
Biology, Anatomy & Physiology
General and Organic Chemistry
Physics, Engineering
Math
Math for nursing
Arithmetic
Algebra, Geometry, Trigonometry
Calculus, Differential Equations
Probability, Statistics
Finite Math, Discrete Math
Tutoring Center Director:
Trisha Russo -
trisha.russo@morton.edu
For more information, contact (708) 656-8000, Ext. 2465.