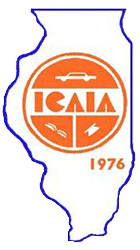 Morton College hosted the 79th Illinois College Automotive Instructors Association's (ICAIA) Spring Conference on March 19 and 20.
The association is made up of secondary and post-secondary automotive instructors from Illinois and surrounding states.
Managed by Automotive technology instructor Don Sykora, the two-day event featured a trade show that showcased new products, services and training programs available to future technicians and the automotive industry.
Automotive instructors attended a variety of professional development and training workshops and seminars. Presenters included independent automotive trainers, aftermarket product experts, educational product specialists, and major vehicle manufacturers.
The event's keynote speaker, Alex Levesque, is the founder and CEO of Automotive Mentoring Group, which works with at-risk youths by teaching them how to restore vintage vehicles. Levesque and his group of six mentors claim a 95 percent success rate.
Regarding the goals of the Conference, Sykora stated, "Technical update training is an essential component of automotive program accreditation standards. By attending conferences such as the ICAIA and NACAT, automotive technology instructors receive the training needed to maintain an up-to-date curriculum that includes the latest advances in the automotive industry."
Morton College previously hosted an ICAIA conference in 1984.