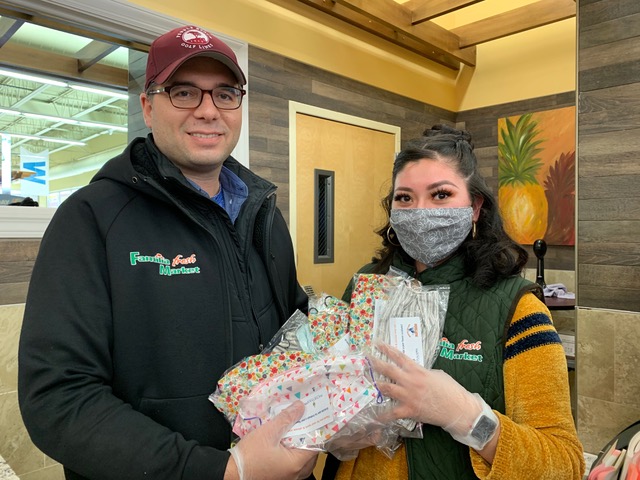 They wanted to keep it local. They wanted to help frontline workers, particularly those who might not have medical benefits.
They decided to help service workers by delivering over 150 face masks for cashiers at nine grocery stores across the Morton College District April 2nd.
"We decided to help them because they are essential workers," said Carolina Saldana, Morton College's PTK advisor. "Many also reside in our community. They have to work every day without any protection.
"We concluded that we would make this donation to the cashiers. They are on the front lines, dealing with customers. We acknowledge the efforts of our health care workers, but we wanted to center our donation on those with fewer resources and are just as vulnerable as well."
Saldana along with PTK treasurer Destiny Herrera and Morton College employees Esbeidy Saldana and Evelyn Jaquez dropped off protective face masks for cashiers at Cermak Produce in Cicero, Valle's Produce in Berwyn, Torres Fresh Market in Berwyn and Cicero, El Porvenir in Cicero, La Chiquita Fresh Market in Cicero, Tony's Fresh Market in Berwyn, Armando's Produce in Cicero and Familia Fresh Market in Berwyn.
Prior to delivering the masks, Saldana contacted the managers at each store.
"They could not believe we were donating them," Saldana said. "Some stores did not call me back. But I persisted and kept calling until I reached someone who could help me."
The cashiers were immediately appreciative as Saldana noted the majority put their masks on right away.
Each store received about 15 face masks for their cashiers. All of the masks, made of 100 percent cotton with interlining filters, were cleaned, sanitized and individually packaged with the Morton College and PTK logos. Also, all the bags had a sticker with the words, "Thank you for your work and please stay safe," in both English and Spanish.
Finding someone to make the masks proved to be PTK's greatest challenge. But the organization was able to assist a district resident. Saldana knew a seamstress who lost her job because of the coronavirus pandemic.
"She started right away and completed all the masks in four days," Saldana said. "In that regard, wehelped a community member who was unemployed by paying her.
"Our goal was to show our support and appreciation of our very own community members," Saldana added. "We understand that times are tough and we need to collaborate to help one another. Our hope is that these masks protect the employees as they work daily to provide us service.
"We want to give them the support they are giving us through their job. In this time of crisis, Phi Theta Kappa is honored to give back and support our communities.