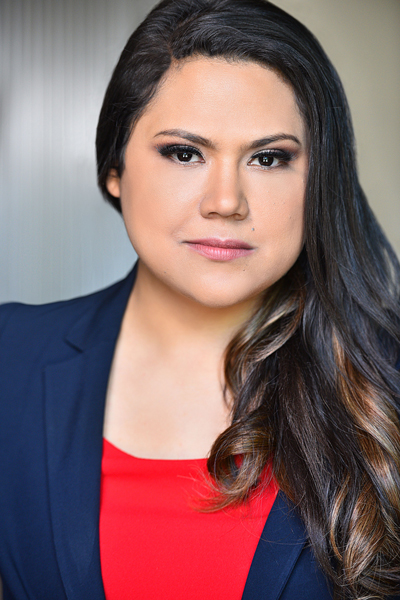 Natasha Perez, an award-winning film, stage, television and voice actress-comedienne, is the next guest of Rick Najera's live nationally acclaimed interview series, Latino Thought Makers, at 6:30 p.m. Friday, November 12th, in Morton College's Jedlicka Performing Arts Center, 3801 S. Central Avenue, Cicero. The event is free and open to the public. Complimentary tickets are available on Eventbrite. 
Natasha, born in Venezuela, is best known for playing the villain in the Netflix hit show Selena, The Series, and for starring in the PBS film, Now En Español. She also was a main cast member in M. Night Shyamalan's film, Lady in the Water. In 2020, Natasha played opposite Larry David on Curb Your Enthusiasm and starred in the only animated episode of HBO's Room 104. 
The Latino Thought Makers series at Morton College features live, sit-down interviews and personal conversations with Najera, who taps into his network of influential and inspirational Latinos and Latinas in Hollywood. Previous guest to Latino Thought Makers at Morton College include Luis Guzman and Dr. Cornel West.
Latino Thought Makers builds bridges of understanding in cultural diversity through personal and comedic dialogue and showcases critical thinking as it relates to entertainment and education and provides the audience an opportunity to be a part of a greater dialogue and motivational story-telling experience.
"Morton College is a wonderful venue for Latino Thought Makers," said Najera. "Everyone has been so welcoming and we have had some inspiring conversations with our two previous guests. The audiences at Morton College are very engaging – they ask great questions."
The author of five critically acclaimed books, Najera has also written for film and television for more than 20 years in Hollywood and performed on Broadway in New York in his self-written stage play, Latinologues, directed by comedy legend Cheech Marin.
Latino Thought Makers will also be broadcast live via Morton College's Facebook page and YouTube channel.
Parking for Latino Thought Makers is free and available on the Morton College campus. The doors open at 5:30 p.m. Admission to Latino Thought Makers is complimentary and open to the public; RSVP via Eventbrite.
COVID-19 State of Illinois Health guidelines require all guests to wear face masks while indoors on campus.
For more information on Latino Thought Makers, please visit www.morton.edu/latino-thought-makers/. Follow Morton College's Facebook page for the announcement of future guests and shows.