Diana is student aide at Morton College's Fitness Center where she assists with the day to day operations under Coordinator Jamie Halmon. She is also the coach of the Morton College Dance Team, "The Pantherettes" under club advisor Russell Streuly.
Away from Morton College, Diana is a competitive dancer for the Pulse Dance Studio, also known as the PDS Crew in Berwyn. The PDS crew dances at many area events and recently performed during halftime of a Chicago Bulls playoff game at the United Center in Chicago.
This summer, the PDS crew will travel to Los Angeles to perform in the NBC reality show/dance competition series World of Dance. World of Dance awards a one-million-dollar grand prize to the winner dancer/team. We're sure that Diana and the PDS crew will do a great job representing our community! The PDS Crew holds regular auditions for dancers interested in joining their ever-so growing family of young and talented adolescents.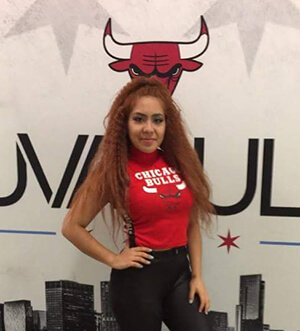 Vacant
Director of Development & Alumni Relations
E: 
P: (708) 656-8000 Ext. 2325
Blanca Jara
Executive Director of Institutional Advancement