Election Day - College Closed
03novAll DayElection Day - College Closed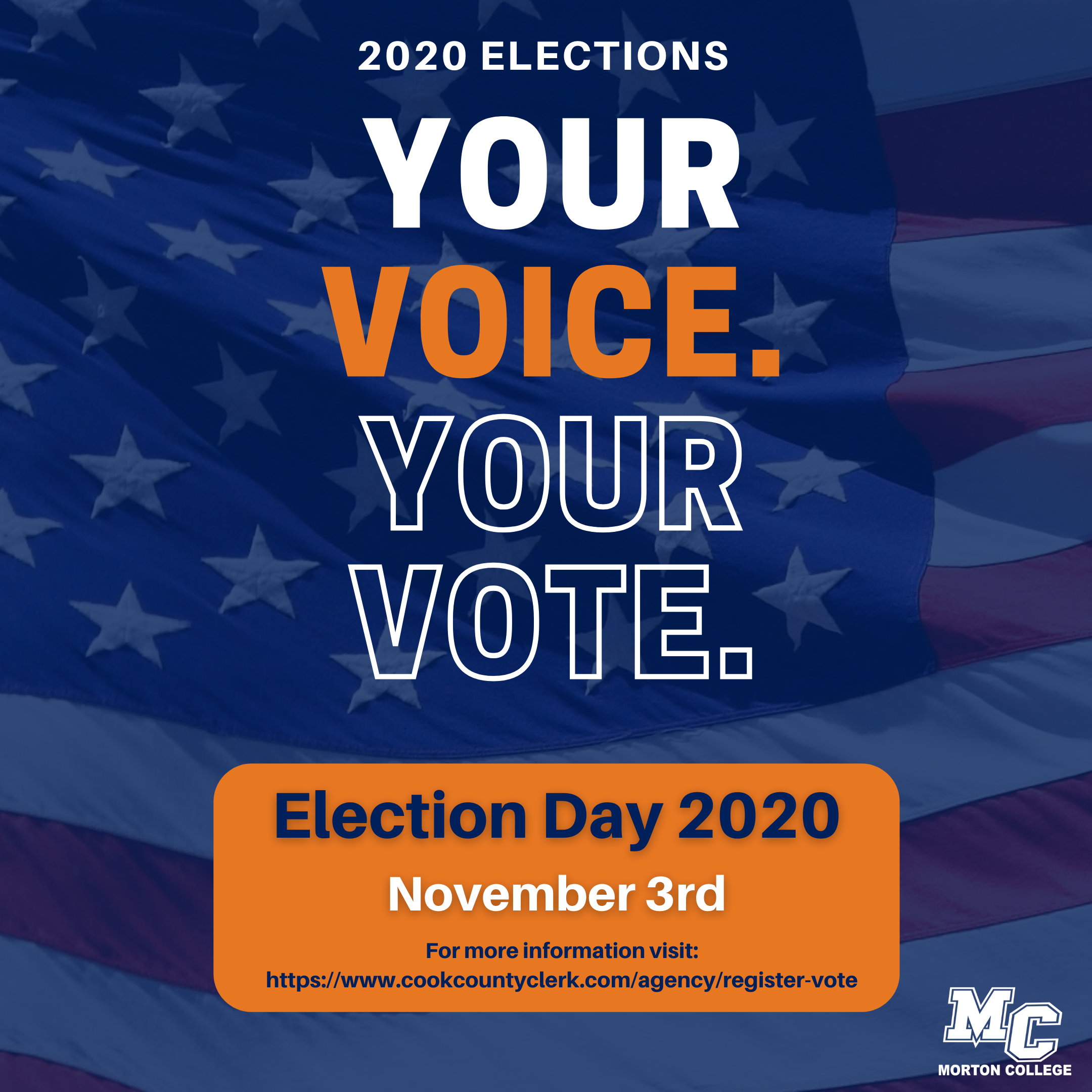 Event Details

November 3rd is an important day for our nation as we go to the polls for the presidential election, as well as many other decisions important to the future of our region, state and nation. As such, we would like to remind our students, faculty, and staff that Tuesday, November 3 is a state holiday; therefore, Morton College will be closed on Election Day and classes will not be held

As members of a diverse college community, we all share in the responsibility of shaping our society. For citizens of the United States over 18 years old, voting is the easiest way to participate in social dialogue. Different levels of government determine your community's response to everything from potholes to parks, and voting gives you the chance to select the people making those decisions.

During these unprecedented times, voting may take a little more planning than it has in the past. However, the state of Illinois provides you with three reliable options for casting your ballot:
Vote in person on November 3 at your polling place. If you are not registered to vote, you can do so and vote on election day. 
Apply to vote absentee by mail. Using this method, your ballot must be postmarked by November 3 and arrive at your county election office by November 10.
Vote before Election Day at an early voting location:

Brookfield Village Hall, 8820 Brookfield Ave., Brookfield, IL 60513
Cicero Community Center, 2250 S. 49th Ave., Cicero, IL 60804
Cicero PSO Building, 5410 w. 34th St., Cicero, IL 60804
Lyons, Village Hall, 4200 S. Lawndale Ave., Lyons, IL 60534
Oak Park Village Hall, 123 Madison St., Oak Park, IL 60302
Whether you choose to vote early or wait until Nov. 3, take the time to express your opinions at the ballot box. We are optimistic that we will be able to work together, no matter the outcome of the election, to ensure a positive, successful, and peaceful future for Morton College.
more