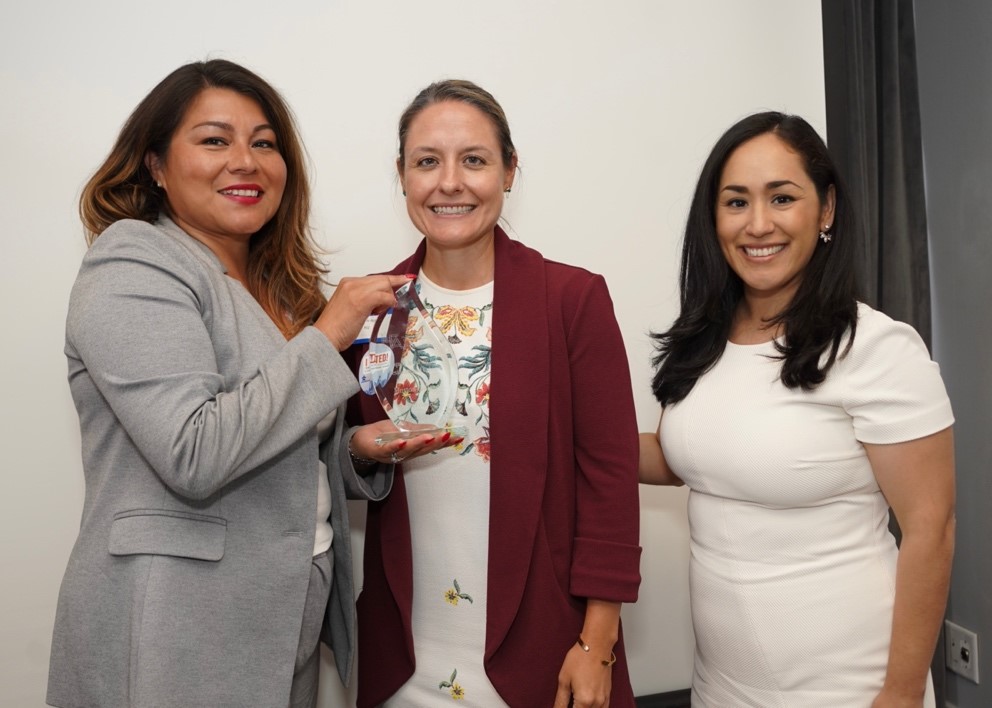 CHICAGO (July 6, 2022)— Morton College received recognition for its ongoing work to eliminate racial and socioeconomic disparities in college completion on their campuses.
The recognition, awarded by the Illinois-based advocacy nonprofit Partnership for College Completion (PCC), was presented to the inaugural graduates of its Equity Academy for Presidents and Cabinets (EAPC) during the EAPC Equity Recognition Luncheon on June 28 at The Metropolitan Chicago. Marisol Velazquez, Associate Provost & Vice President of Student Services and Blanca Jara, Vice President of Institutional Advancement joined leadership teams from 17 other Illinois colleges and universities to participate in a one to two-year journey to gain additional support in the long-term implementation of their institutional plans for increasing equitable student outcomes.
Through the EAPC, developed in collaboration with the Aspen Institute College Excellence Program, Institutional presidents and other key leaders have learned about how to improve communication around equity efforts, improve data transparency and data use, and grow their plans for addressing student success disparities to scale.
"ILEA has equipped Morton College with the knowledge to empower us in removing institutional obstacles to ensure the academic success of our college community." said Marisol Velazquez, Associate Provost & Vice President of Student Services.
Presidents and cabinets eligible to participate in the EAPC included members of the Illinois Equity in Attainment Initiative (ILEA), of which Morton College is a partner. In 2020, Morton College joined ILEA, PCC's signature initiative to partner with two- and four-year public and private nonprofit colleges and universities in analyzing their student achievement outcomes and put long-term plans into motion to eliminate racial and socioeconomic disparities and improve graduation rates overall. Morton College is one of 25 colleges and universities engaged in the initiative.
"Our ILEA partners represent the diversity of higher education options in our state and those that are most deeply committed to taking action to address historic inequity on their campuses. We're pleased to recognize these 18 presidents and their leadership teams today for doubling down on their commitment to equity, and moving from rhetoric to action," PCC Executive Director Lisa Castillo Richmond said.