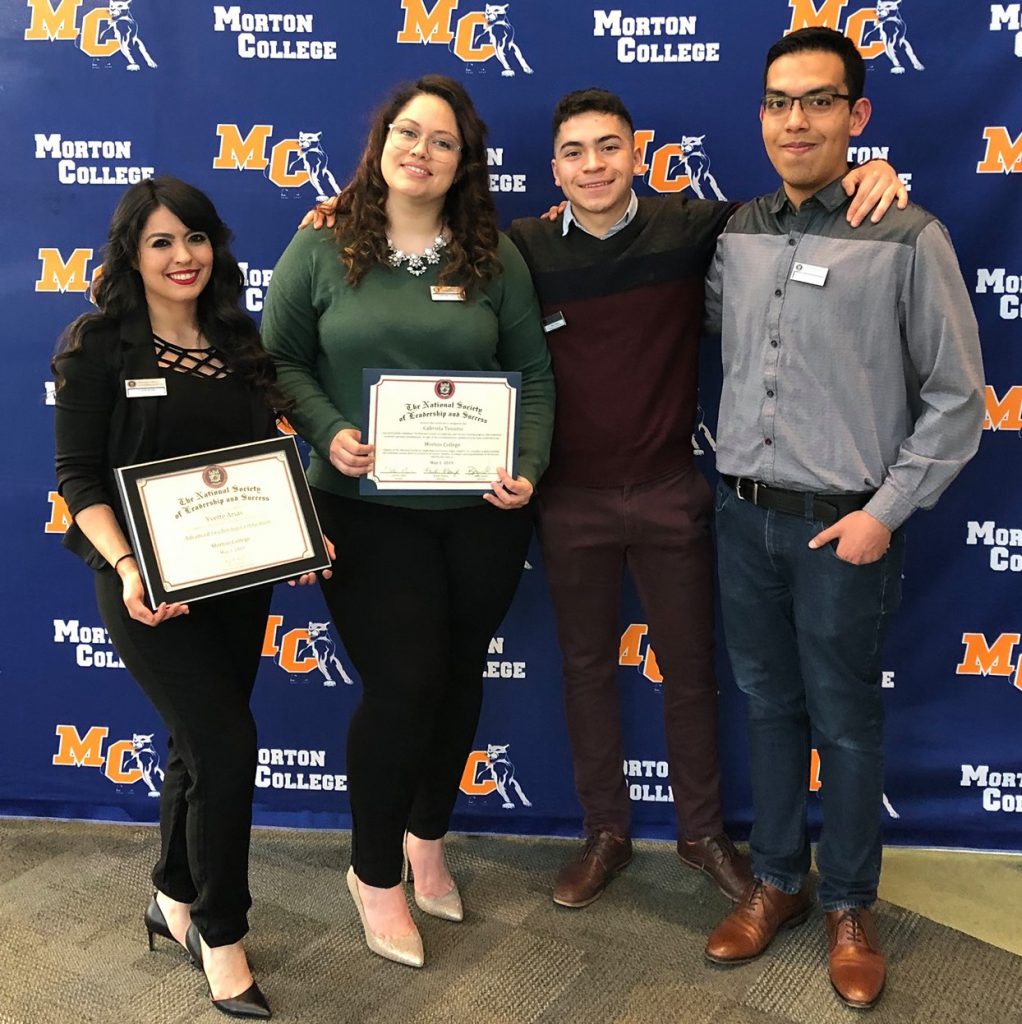 Two Morton College students were among 88 nationally to receive scholarships from the National Society of Leadership and Success, the nation's largest leadership organization with more than one million members nationwide.
With a special focus on leadership, NSLS's events and activities are designed to help students develop and practice communication, organization and goal-setting skills, all while interacting with a close-knit community of students.
Peter Salas, a sophomore, and Dylan Miller, a freshman, received recognition from NSLS based on their Spring 2019 scholarship applications.
Miller received a $1,000 "Financial Aid" award. He is a newly-inducted member from Morton College's Spring 2019 NSLS class.
"Dylan shows up to each event with a smile and a positive attitude," said Morton College Chapter Co-Advisor Gabriela Mata. "When students often have busy schedules and need to miss an event or two, Dylan is always in attendance and ready to participate."
In addition to attending Leadership Training Day and Success Networking Team meetings, Miller and the Spring 2019 honorees participated in an orientation session and three speaker broadcast events and discussions, for a minimum total participation of 12 hours this semester.
They also created personal goal plans, which they submitted to chapter advisors for approval. Miller's award salutes his success in balancing responsibilities, both academic and extracurricular.
Salas received a $500 "Practicing Leadership" award. After joining NSLS in its introductory semester at Morton in Fall 2018, Salas completed his steps to induction in one semester, and in Spring 2019 he earned his Advanced Leadership Certification.
"Peter has been active in the chapter since his enrollment," says Morton Chapter Co-Advisor Randi Ploszaj. "Eager to learn and progress, Peter asks questions when needed, completes work in a timely manner and sets an ideal example for fellow student leaders to follow."
To achieve this advanced certificate, Salas and his leadership class became Success Networking Team facilitators for groups of their pre-induction peers. The process included hours of additional training to learn how to successfully coach others into goal-setting plans. Salas' scholarship award denotes his excellence in practice of these leadership skills.
Morton College's Chapter of NSLS is preparing to induct new members in Fall 2019. Nominated students will receive letters in the mail in mid-July. All NSLS members, pre- and post-induction, are eligible to apply for scholarships on the NSLS website. Visit nsls.org/memberinfo/awards/overview for more information.