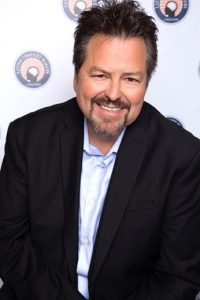 Award-winning Hollywood writer, actor, and producer, Rick Najera, brings his nationally acclaimed series Latino Thought Makers back to Morton College to kick off its Fall 2022 season, beginning in August at the college's Jedlicka Performing Arts Center.
Latino Thought Maker series will feature four, separate live, sit-down interviews and personal conversations on Morton College's Jedlicka Performing Arts Center stage hosted by Rick Najera featuring his diverse network of influential and inspirational Latinos and Latinas in Hollywood.
"We are honored and privileged to welcome Mr. Najera and his inspiring Latino Thought Makers series back to Morton College this fall," said Blanca Jara, Vice President of Institutional Advancement. "We look forward to recognizing and celebrating the Latino contributions to our community through this successful forum of learning and engagement."
The Latino Thought Makers builds bridges of understanding in cultural diversity through personal and comedic dialogue, showcases critical thinking as it relates to entertainment and education, and provides the audience an opportunity to be a part of a greater dialogue and motivational story-telling experience. It is an unscripted interview series highlighting prominent Latinx personalities through organic conversations with Najera's network of industry friends and community leaders. Previous guests have included Edward James Olmos, Dr. Cornel West, Dolores Huerta, Danny Trejo, and hundreds of others.
"I'm happy to have Latino Thought Makers return to Morton College for a second residency," said Rick Najera. "The college community is impressive. Morton College understands the community it serves and strives to be inclusive and informative."
Most recently, Rick Najera co-authored an Amazon top-seller book titled "Ignite the Fire Within: Master Your Speaking and Writing" with Harvard Professor Sanjiv Chopra. He has also written for film and television for over 20 years in Hollywood and performed on Broadway in New York in his self-written stage play, Latinologues, directed by comedy legend Cheech Marin.
Najera has a Masters of Fine Arts at the American Conservatory Theater in San Francisco, whose alumni ranks include Elizabeth Banks, Annette Bening, Benjamin Bratt and Denzel Washington.
The events will be open to the public and entrance will be free. The shows will also be broadcasted live via Morton College's Facebook page and YouTube channel.
For more information and to view Latino Thought Makers please visit www.morton.edu/latinos-thought-makers/. Follow Morton College's Facebook page as we will soon announce our first guest.