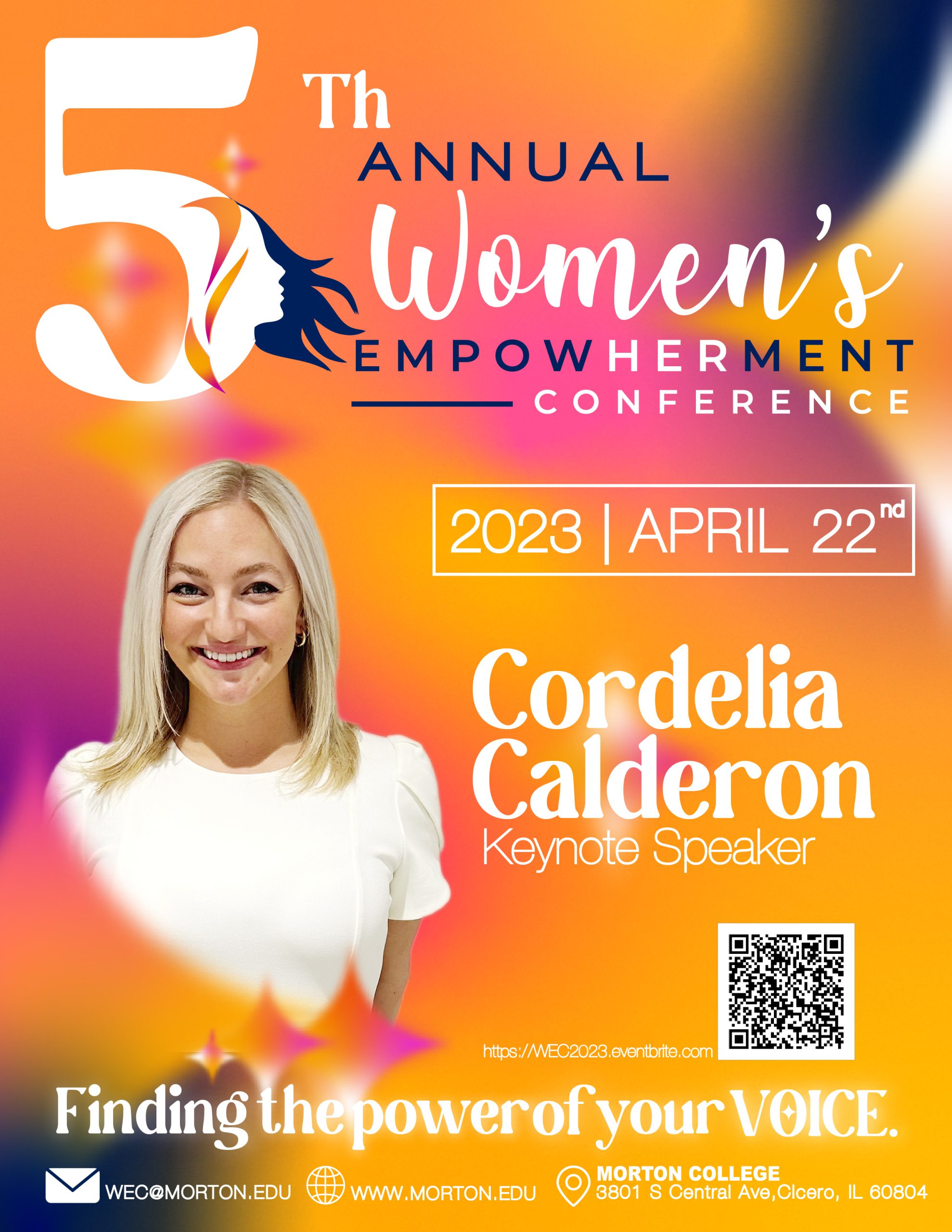 Morton College to Host 5th Annual Women's EmpowHERment Conference
The Women's EmpowHERment Conference (WEC) celebrates the triumphs of women throughout history, offers an empowering, uplifting environment, and highlights women in our community by providing a safe space to share their stories, network, and connect. The theme of the 2023 WEC is "Finding the Power of Your Voice," and it will take place on Saturday, April 22, 2023.
Registration begins at 8:30 a.m., with the conference starting at 9 a.m. in the Jedlicka Performing Arts Center at Morton College, 3801 S. Central Avenue, Cicero. Parking is free and available on campus. The conference is complimentary and RSVP is required via Eventbrite.
Cordelia Calderon, Diversity, Inclusion, and Employee Experience Director for Medix, will serve as this year's WEC keynote speaker. Cordelia's professional background ranges from Target's Executive Team Leader to holding multiple roles with Medix. Outside of her career progression, Cordelia is involved in her community. She has served as the President of the Associate Board for a Chicago Non-Profit, Cara Collective. She has also volunteered and partnered with several organizations like Year Up Chicago, Chicago Tech Academy, and more. Cordelia earned her Bachelor of Arts with a concentration in International/Global Studies and Spanish.
"I am so honored to be the keynote speaker for the Women's EmpowerHERment Conference. If there has been one constant throughout my career it has been my passion and drive to empower and lift up people around me. Seeing colleagues, friends, family, and community members find the power of their voice and achieve success is the best feeling in the world. Finding the power of your voice is a journey for all of us, and we can do that for one another by creating safe spaces of empowerment, belonging, inclusion, and listening."
WEC offers an empowering, uplifting environment and highlights women in our community by providing a safe space to share their stories, network, and connect. Workshops and activities centered on leadership, career, and professional development.
"We are beyond excited to celebrate our 5th annual Women's EmpowHERment Conference at Morton College. It has been a privilege to work alongside committee members that have poured their love into this event to help it grow and become what it is today. This conference is a true testament to the work that we do at Morton College for our community and commitment to uplift and empower. We look forward to having Cordelia deliver a powHERful message and celebrate the legacy this conference has created over the past five years." – Gabriela Mata, Director of College Community Experience and Chair of Women's EmpowHERment Conference Committee."
The event was created in 2019 to celebrate Women's History Month by Morton College staff, faculty, and administrators. During its first year it received over 350 registrations, making this event one of the largest conferences held at Morton College. For the past five years, the Women's EmpowHERment Conference has been free of charge and supplied several resources and giveaways to all attendees. This event is open to the entire college community.
For more information about the Women's EmpowHERment Conference, please visit  https://www.morton.edu/wec/. Follow Morton College's Facebook page for more WEC announcements.